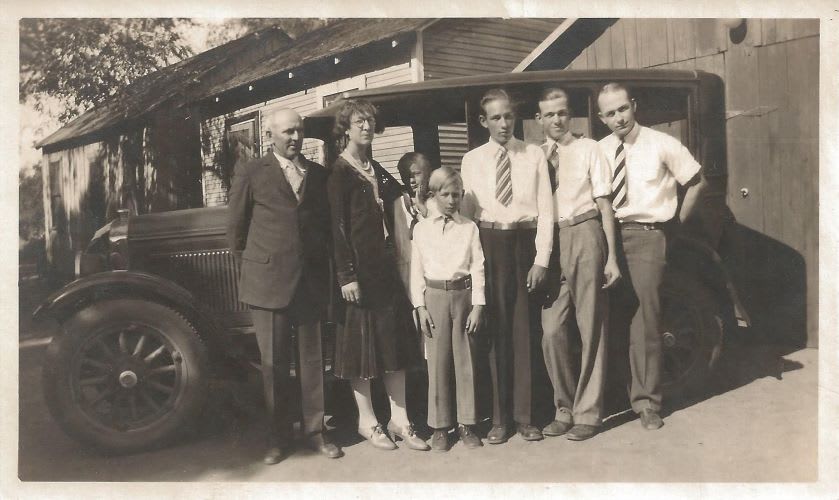 Looking at this great old family photograph of my grandparents and their five sons, I wondered when it was taken. My initial thought was the mid 1920s.
However, William, the youngest son was born in July of 1925. I can't tell his age or height in the picture, and I suspect that he was standing on the running board of the car. He was at least 5 or 6, putting the photo at 1930 as a minimum.
Perhaps the automobile in the background might provide some clues.
Identifying the Automobile
By comparing pictures of vintage automobile on the internet, I determined that it was a Buick Sedan model from between 1925 and 1927.
Some distinctive features were the drum-shaped headlamps, the kickplates on the running board under the doors, and the spoked wheels with the six bumps on the rims. The 1924 and 1928 models did not have solid ends on the visor over the windshield.
I located an image, possibly a factory photograph, at the New York Public Library. It is a 1925 model that looks identical to the car in the family photograph.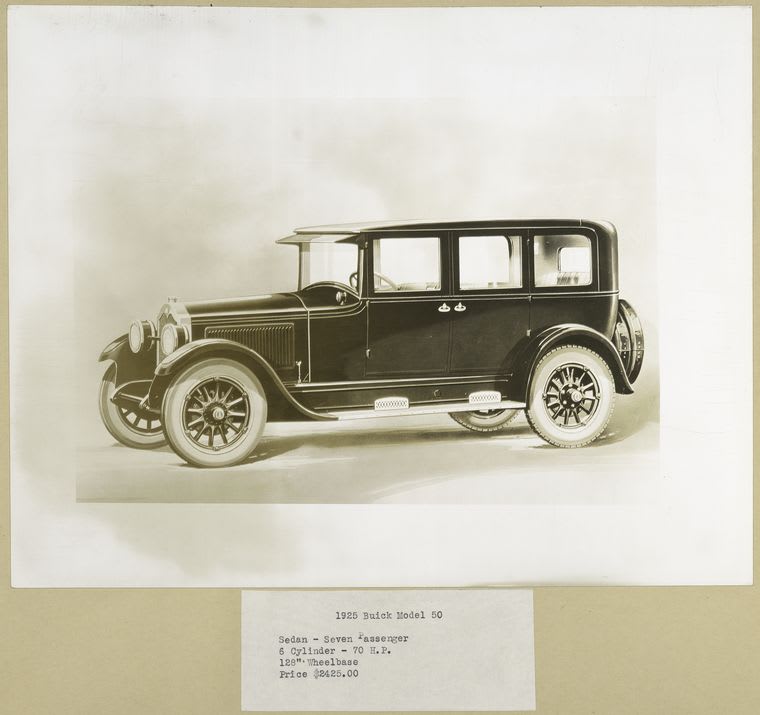 For anyone interested in historic Buick automobiles, see Buick at New York Public Library Digital Collections for a nice collection of photographs through the years.
I have also acquired a page from an old magazine with a full page advertisement for a 1926 Buick Sedan. The models apparently didn't change much, between 1925 and 1927.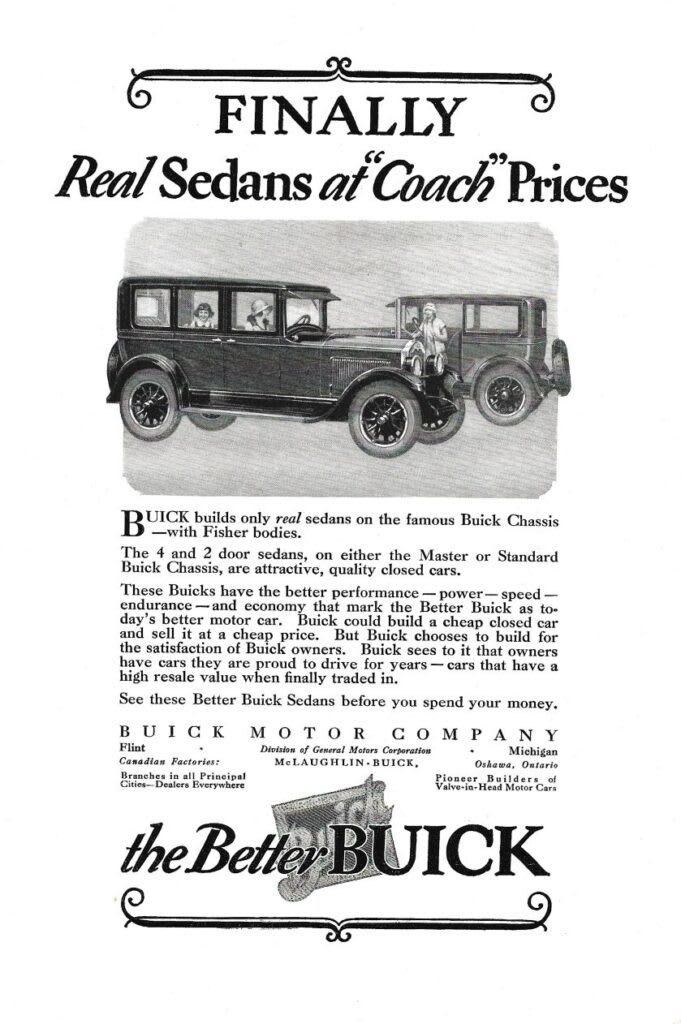 I haven't been able to determine exactly when or where the Buick was purchased. At first I thought that it might have belonged to some other family member and made a good backdrop for a photograph (which it did).
I scoured through the mid 1920s editions of the local newspaper, the Times-Advocate newspaper from nearby Escondido. They often published the names of new car buyers. Fortunately, I am able to do this online through Newspapers.com.
While I was not able to locate anything about a Bates purchase of a Buick, I did find a brief note about the Bates family in a Buick in 1929.
Almost every issue of the newspaper in the late 1920s had a Buick advertisement. One from 1928 listed prices ranging from $1195 to $1995 for the sedan model.
Final Thoughts on the Family Photograph
To summarize, the photograph was probably taken between 1930 and 1932, based mainly on the approximate age of William. The Bates family bought the Buick after between 1925 and 1927 and still had it in late 1929.
Identifying the Buick, although an interesting project, did not really help me date the photograph. It did result in me changing my original estimate from the mid 1920's to the early 1930s.
For a similar article, see Gilbert Bates Buys a Paige "36" Touring Car.