In 1921, Gilbert and Beatrice Bates purchased Walnut Slope Ranch in Valley Center, California and moved their family from nearby Ramona. This year (2021) marks the 100-year anniversary of that purchase. This article takes a look at how the property came to be the home of at least four generations of the Bates family.
Early Photographs
Below is a photograph from about 1921 of Walnut Slope Ranch, showing the existing buildings and immature English walnut trees. The barn on the right is still there, although re-purposed.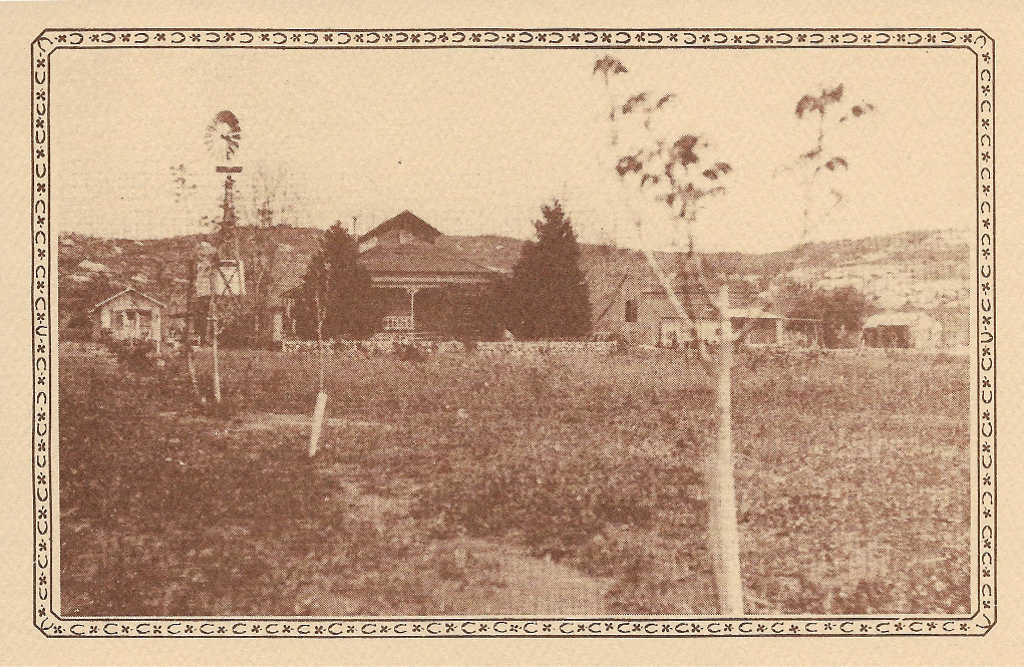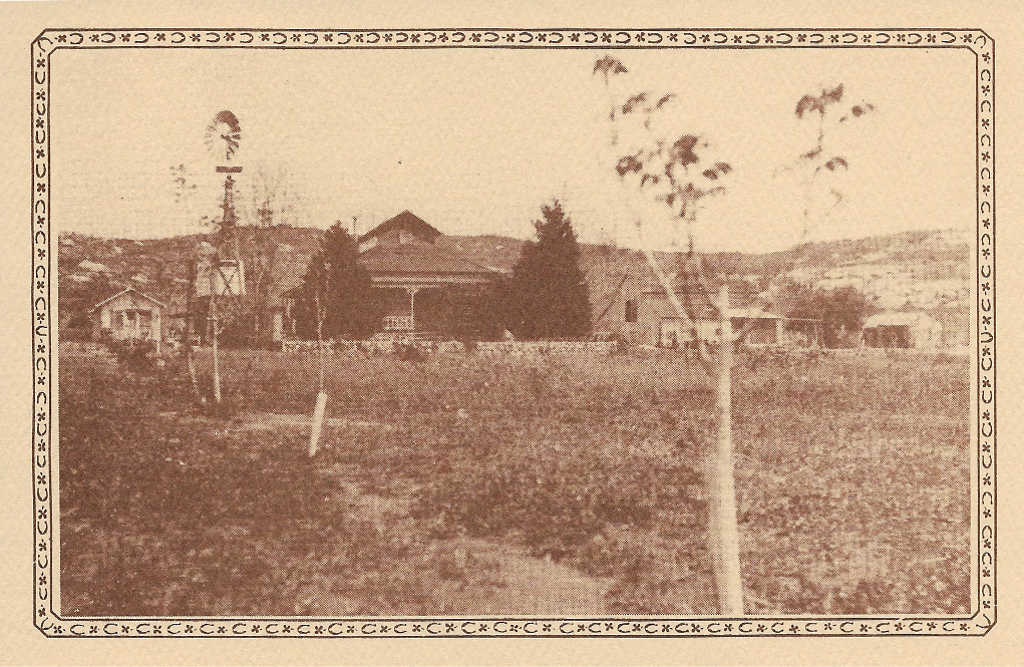 The next photo is a closer view of the original house. I'm not sure who built it or when. Gilbert built a new house further back on the property using materials from this house.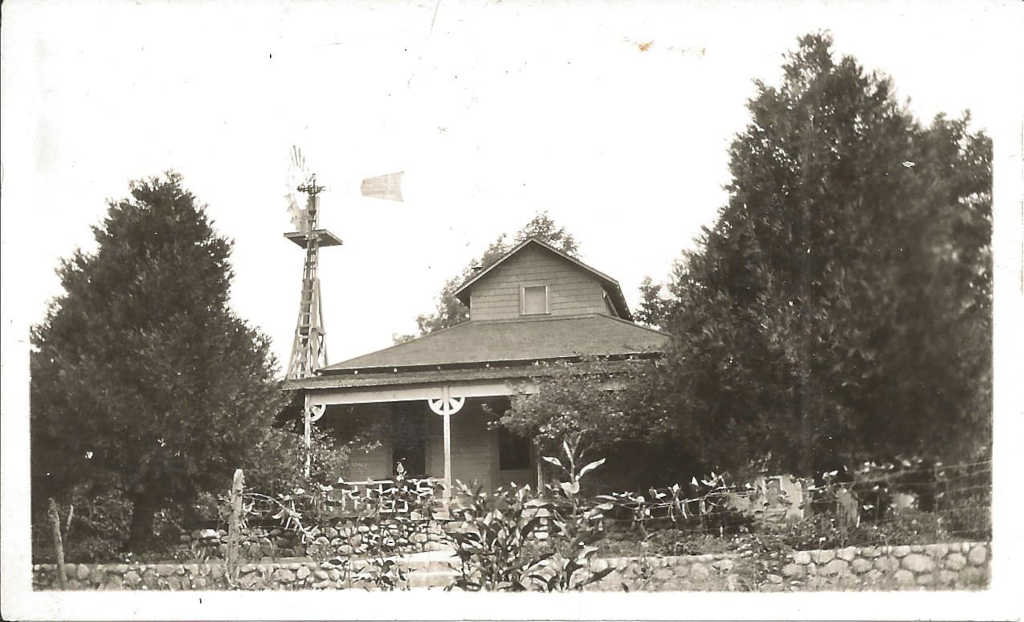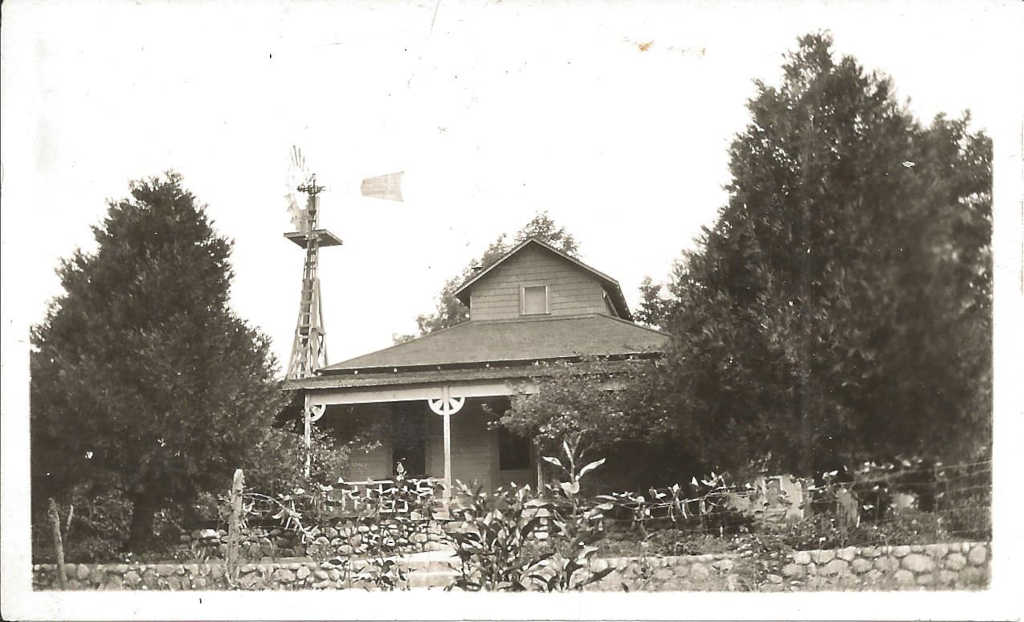 At some point, Gilbert built a new house further back on the property using materials the original house.
The next photograph shows the new farmhouse. Examples of Gilbert's signature rockwork can be seen on the chimney and end wall of the house.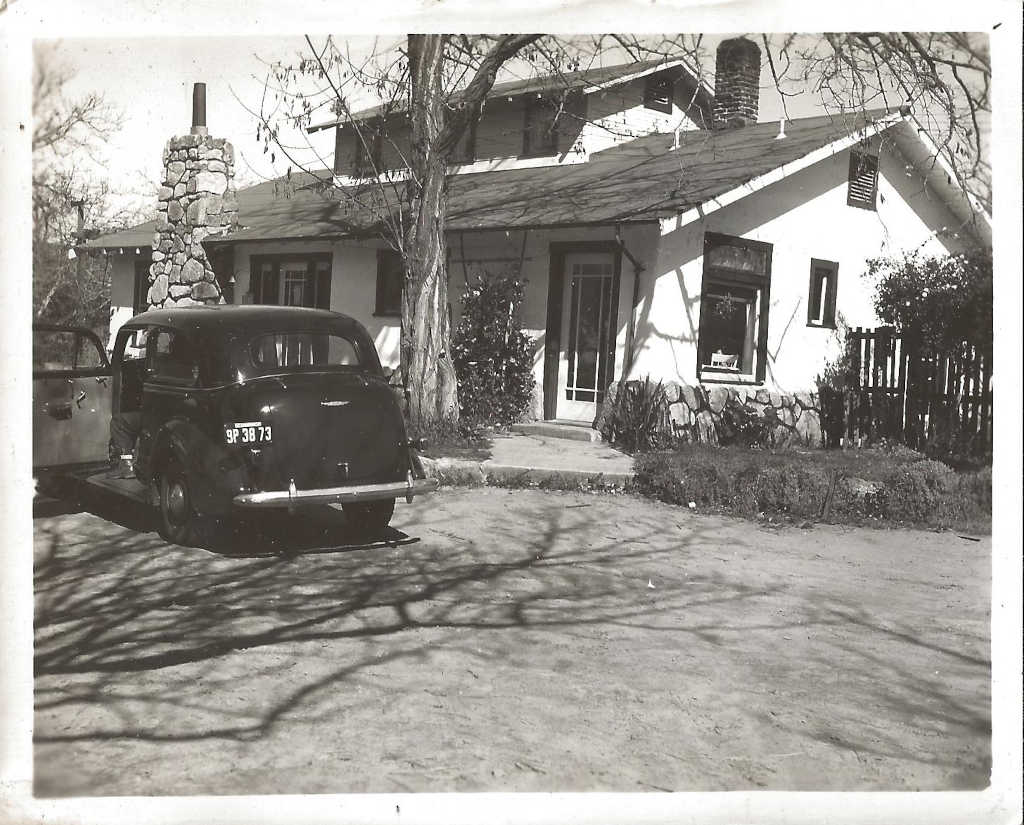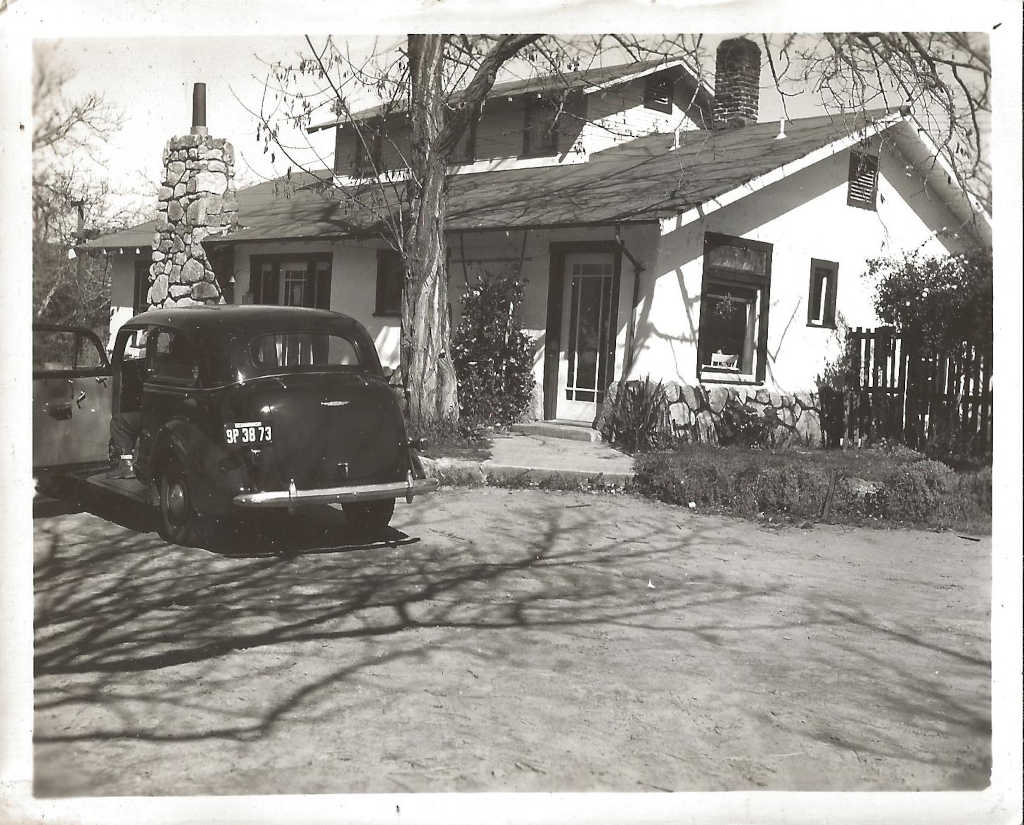 This is the house as I remember it as a child. It is still in use today, although some remodeling has been done. The photo is undated, but the automobile appears to be a '37 or '38 Chevrolet 2-door sedan, judging by the trunk emblem. The license plate looks to be from 1941-42.
Trip to Recorder/County Clerk's Office
Several years back my cousin Kathy Bates-Lande made a research expedition to the San Diego Recorder/County Clerk's Office to see if we could find anything related to the property purchased by Gilbert and Beatrice.
This involved pouring over microfilm archives of deed books in search of specific names. Once I located the records I wanted, the office printed paper copies for a nominal fee. Images of these records are shown and discussed below. In all, we came away with four deed records, three of which I discuss below.
1921 Walnut Slope Ranch Purchase
Here is a deed registration from for the sale of the property, filed on February 17, 1921. The sale was subject to a $10,000 mortgage held by Ira E. Leck. However, it appears that Otto Lewis sold the property to Gilbert and Beatrice Bates for only $10.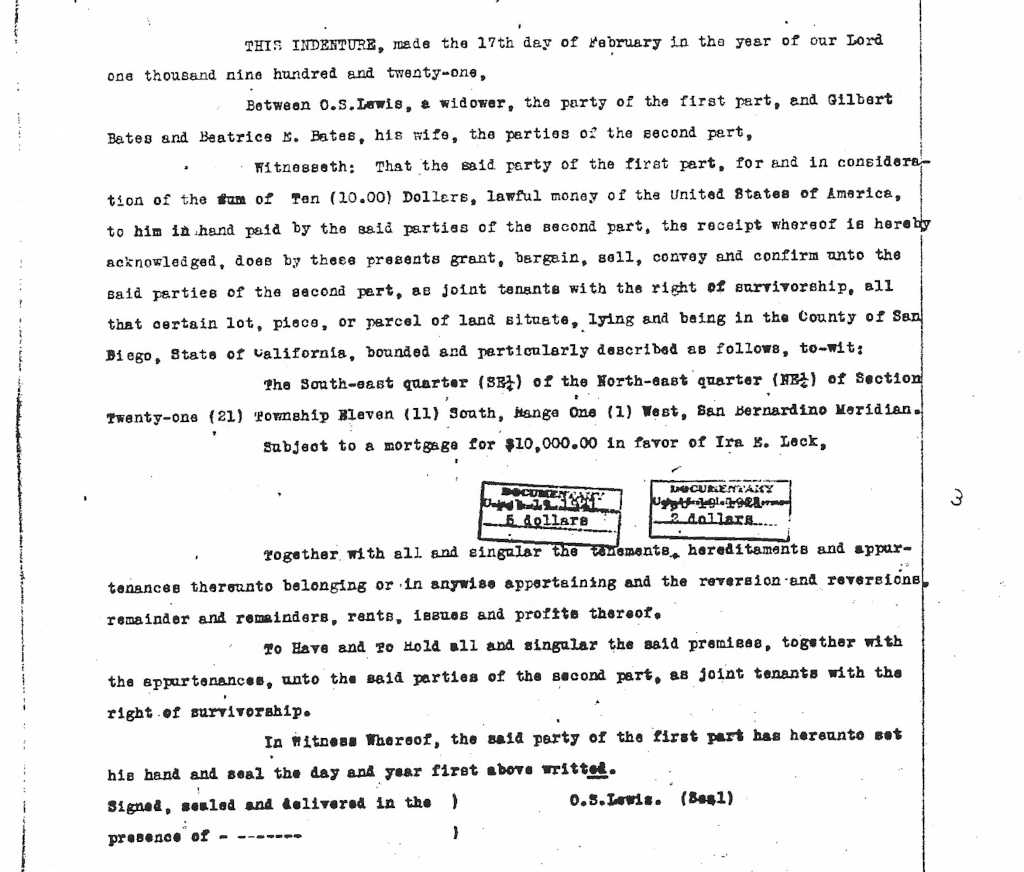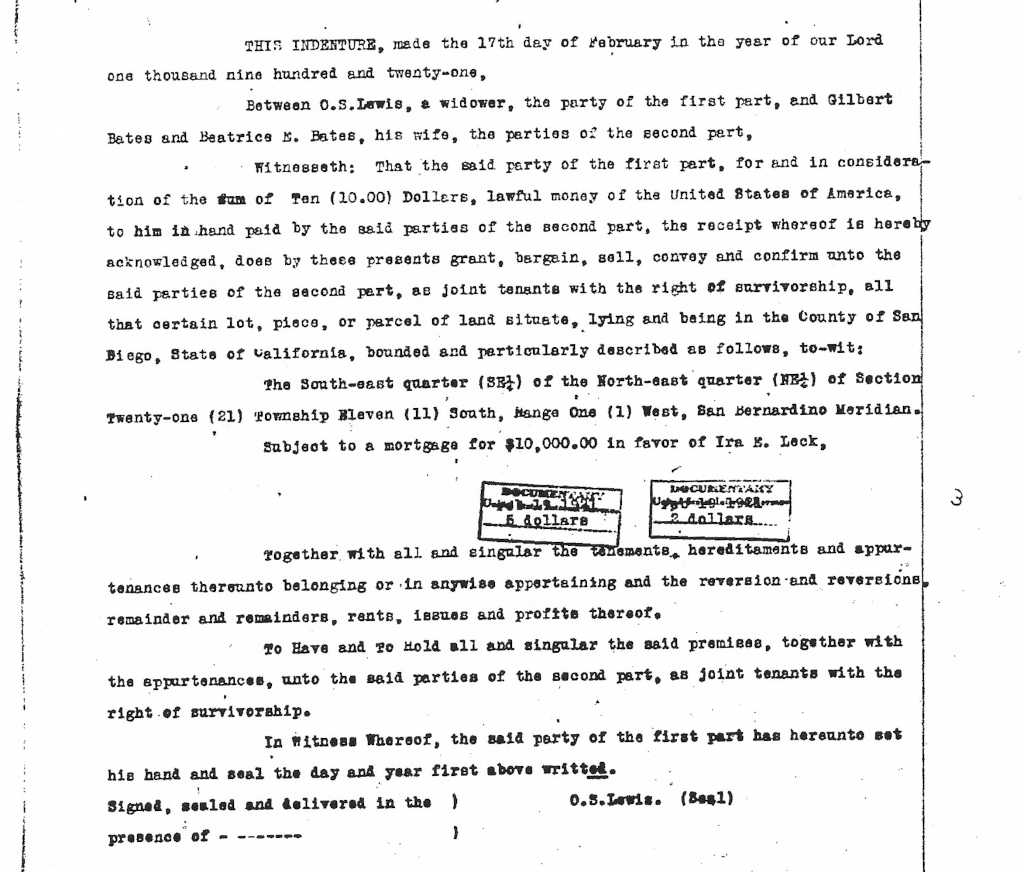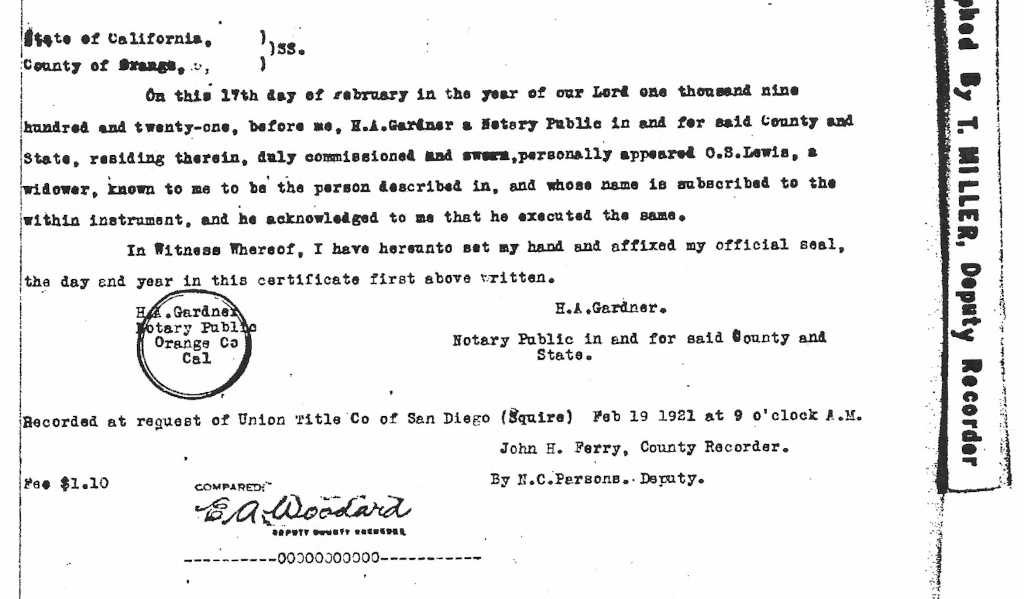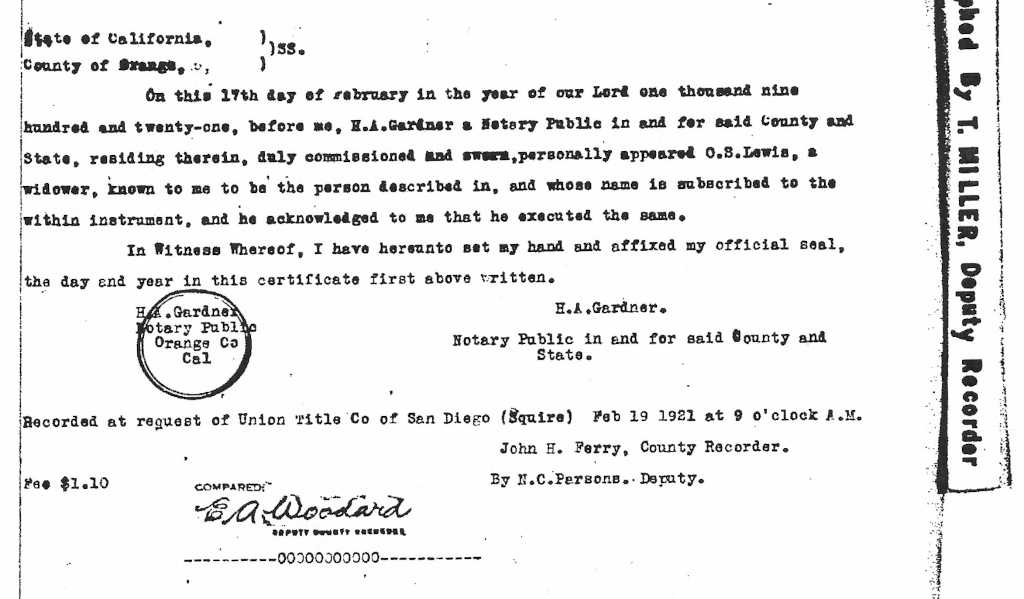 Prior Owner Otto Lewis
Who was the seller, O.S. Lewis? Otto Shumway Lewis was the husband of Beatrice's aunt, Mabel Blanche Holman. She and their two adopted children were lost in the shipwreck of the SS Columbia in 1907. Otto continued to play a significant part in the lives of both the Bates and Lockwood families for many years after the death of his own family. Still, I was surprised to find out that he had sold the ranch to my grandfather. So how did Otto Lewis come to own the property?
Below are excerpts from a deed book at the San Diego County Recorder showing a 1920 transfer of property from Ira E. and Mildred F. Leck to O. S. Lewis.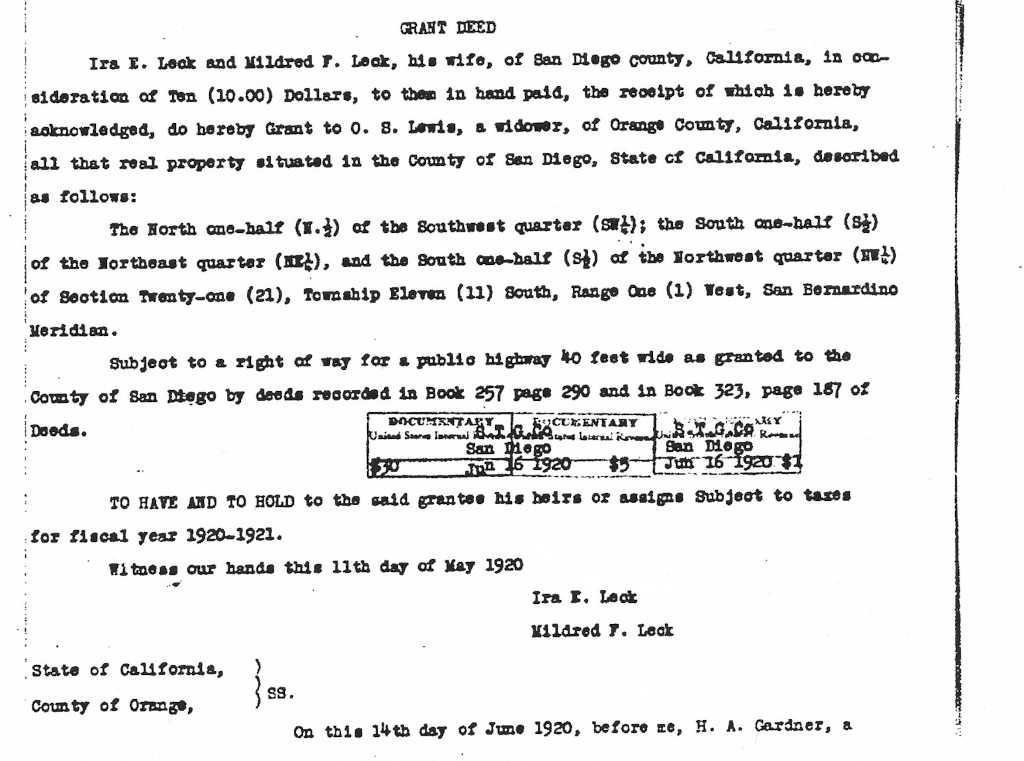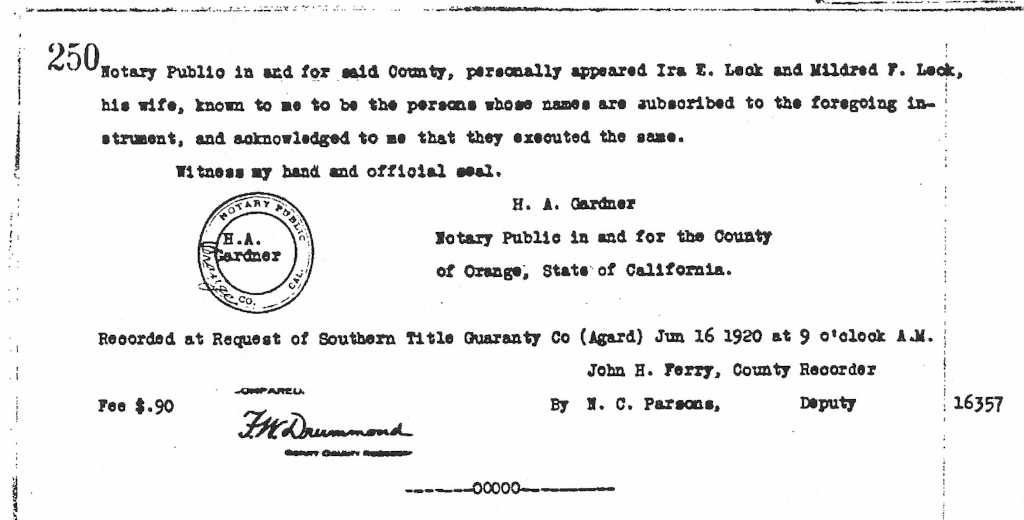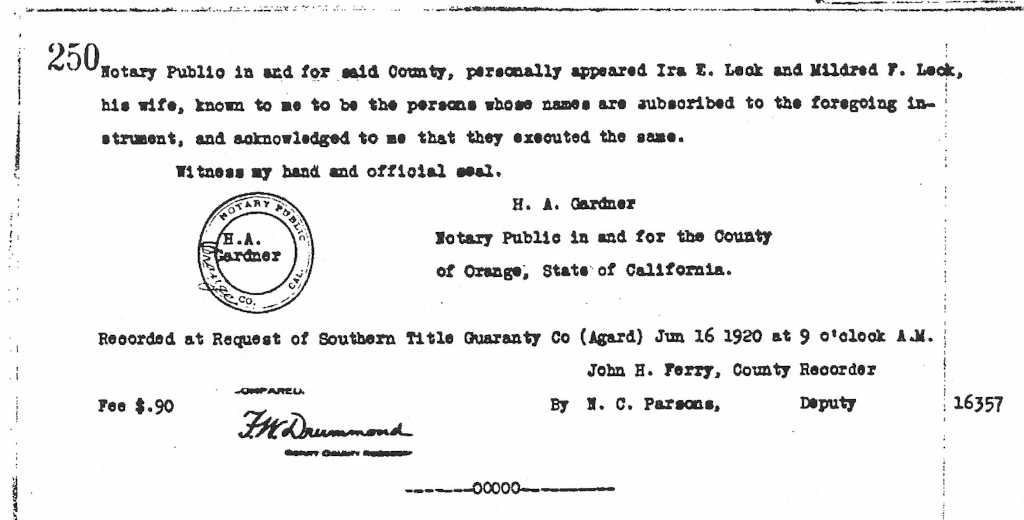 A couple of items to note here: The only money mentioned is $10.00, and there is 40 foot right-of-way for a public road, most probably Woods Valley Road.
Another Purchase From Otto Lewis
Below is another deed registration, this time showing the transfer of property from O. S. Lewis to C. F. and Myrtle B. Bates. This was Gilbert's brother Charles Fredrick Bates and his wife Myrtle Bell Hill. This transfer took place on March 14, 1924. It looks like the price was $18,000, and as with Gilbert, Otto sold this property to Charles for only $10. Note that Ira Leck also held a mortgage on this property. Once again, the deed is split across two pages: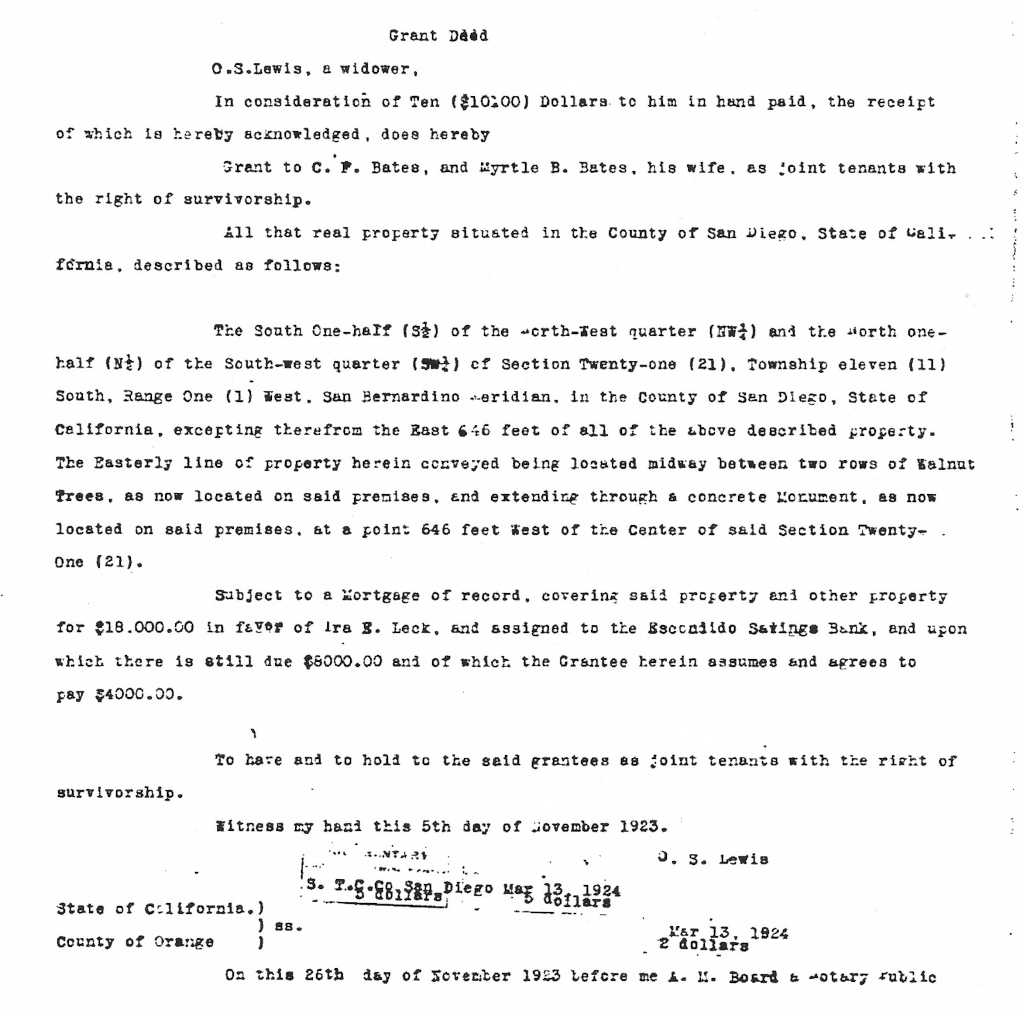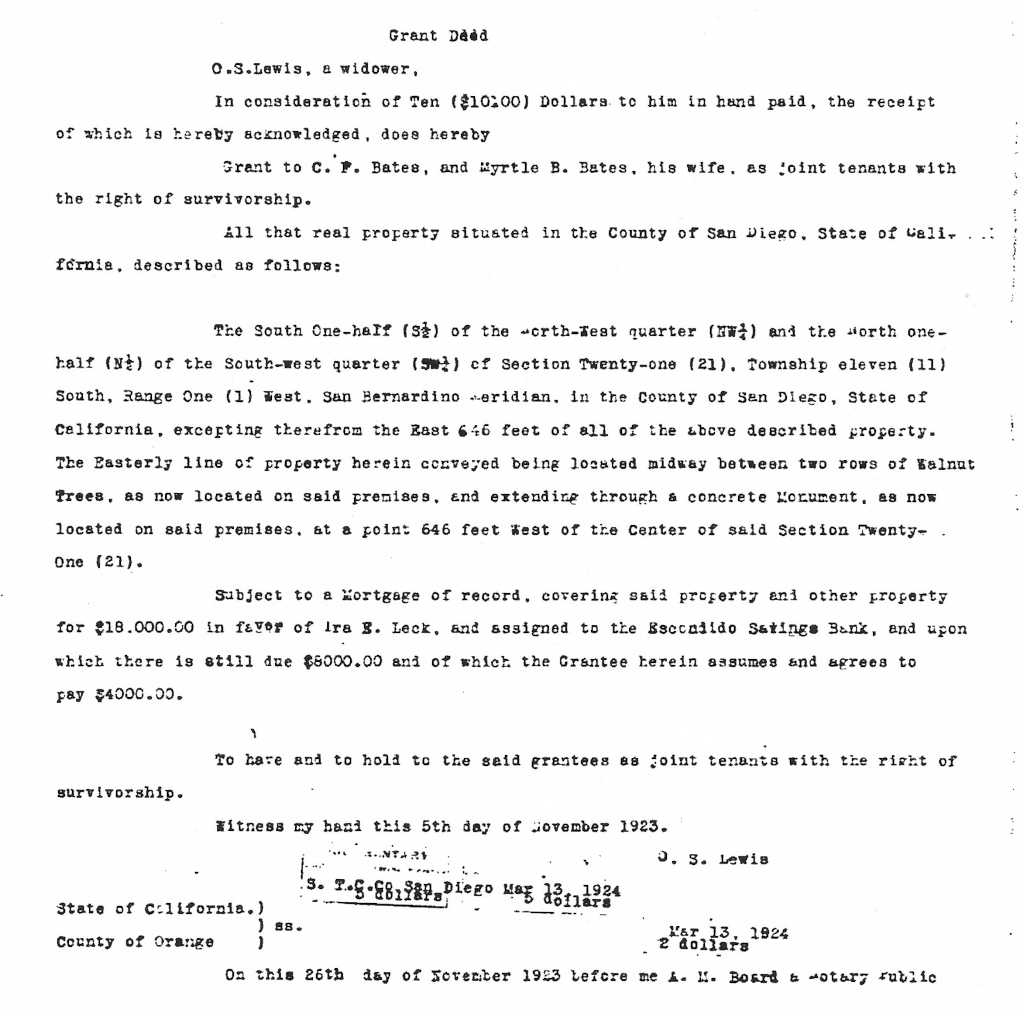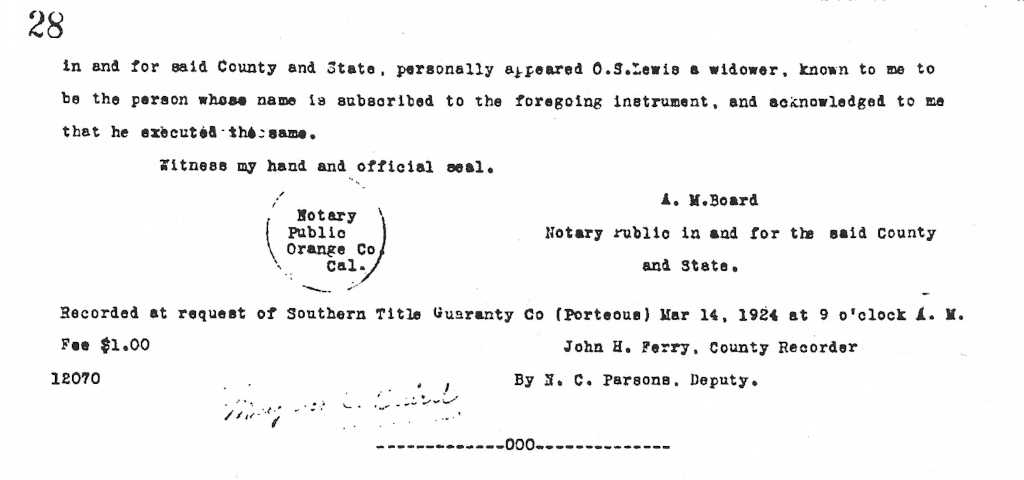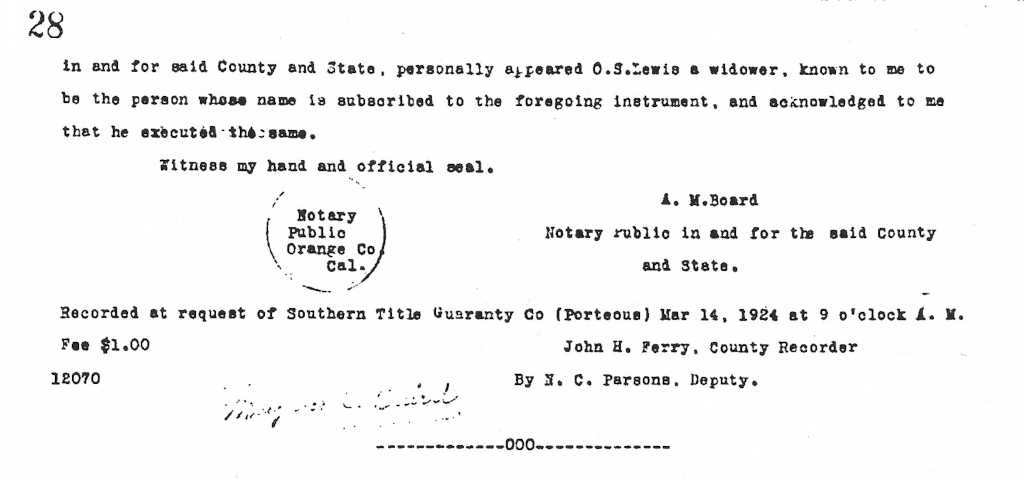 Interpreting the Records
Land Survey Terms: A township is nominally divided into 36 sections, each about one square mile, or 640 acres. A section is divided into quarter sections of 160 acres and may be further divided into quarter-quarter sections of 40 acres.
These are listed as a quarter-quarter of a quarter (of Section, Township).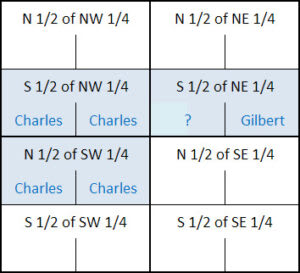 This is a basic layout of Section 21 made using the information from the records above. The colored section is the Otto Lewis purchase in 1920. The subsequent Bates purchases are indicated with their names. Note that Gilbert's purchase was a quarter-quarter whereas Charles bought a full quarter section. It looks like Otto held onto a 40 acre parcel.
Prior Owner Ira E. Leck
Ira Edgar Leck was active in real estate in the Santa Ana and San Diego areas. He frequently advertised properties in the Santa Ana Register and the Escondido Times-Advocate in the around the 1920s.
Mr. Leck was at one time president of the Northern San Diego County Bank and presided over an early Escondido Grape Day Festival (an interesting read, by the way). He passed away in Escondido on March 27 1954 (FindAGrave).
How did Mr. Leck come to own the property?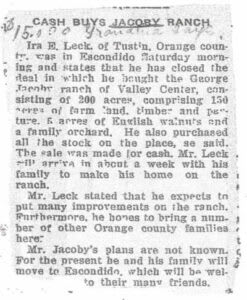 This clipping from the April 18, 1919 Escondido Times-Advocate describes the purchase of a 200 acre ranch from George Jacoby on April 12, 1919. At this time, there were 5 acres of English walnut trees on the property.
I'm not sure when the property became known as Walnut Slope Ranch. News articles still referred to it as the Jacoby Ranch several years after he sold it.
I don't have a deed record for this sale, but now that I know the names and date, perhaps another trip to the county recorder might be in order (someday).
Summary
Although putting together the material for this article satisfied some initial curiosity about early history of the Nut Farm, I see that I've documented four owners and only gotten back from 1921 to 1919! If there is interest, I will add updates if I find any earlief information.
Special thanks to my cousin Kathy Bates-Lande for the trip to the county clerk's office and Robert Lerner, the historian Valley Center History Museum for some leads.
The Bates Nut Farm Today
Ok, time for a shameless plug for the Nut Farm. Over the years the name has gone from Walnut Slope Ranch to Bates Bros. Nut Farm to the present Bates Nut Farm. It is still family owned and run.
For more information check out the Bates Nut Farm website or Bates Nut Farm page on Facebook. See Patch Work: At Bates Nut Farm for pictures and information about their annual October Pumpkin Patch.