In December 1912, the Santa Ana Register ran an article describing a Christmas celebration at the home of my grandparents, Gilbert and Beatrice [Lockwood] Bates. Of the twenty-two attendees, at least twenty-one were close family members who had moved from Michigan to California (see Migration – From Michigan to California ).
Dinner And A Tree
The Christmas celebration took place when Beatrice and Gilbert lived in Santa Ana, well before they moved to Ramona in early 1917 and eventually to Valley Center in 1921. My father Edgar L. was not born until a year later.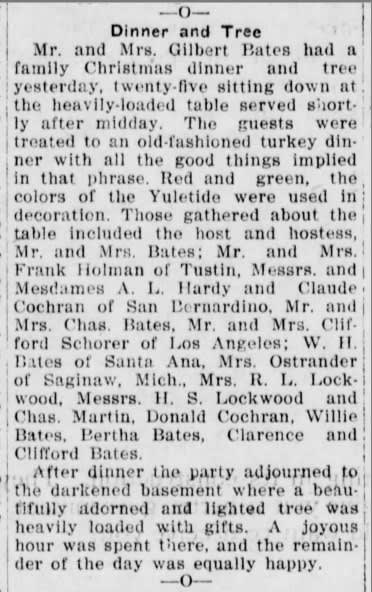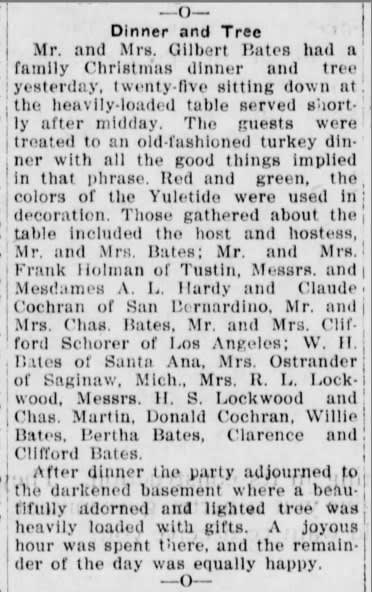 Attendees
The dinner must have been quite an event, and a chance for all the relatives from Michigan to get together again. Listed below are the details of how they were related.
Gilbert E. Bates and Beatrice E. Lockwood: the host and hostess, my paternal grandparents
Mr. and Mrs. Frank J. Holman: Beatrice's parents, Franklin J. Holman and Julia A. Spicer
Mr. and Mrs. A. L. Hardy: Gilbert's sister, Martha J. Bates and husband Arthur (Art) L. Hardy
Mr. and Mrs. Claude Cochran: Martha and Art's daughter Grace E. Cochran and husband Claude H. Cochran
Donald Cochran: Grace and Claude's son Donald C. Cochran, age about 2 1/2 months
Mr. and Mrs. Chas. Bates: Gilbert's brother Charles F. Bates and his wife Myrtle B. Hill
Willie Bates: Charles and Myrtle's son William A. Bates
Mr. & Mrs. Clifford Schroer: Gilbert's sister Lottie M. Bates and husband Clifford E. Schroer
W. H. Bates: Gilbert's father William H. Bates
Mrs. Ostrander: Beatrice's aunt Iora Kopp Lockwood Ostrander, visiting from Michigan
Mrs. R. L. Lockwood: Beatrice's mother Mayrennie (Rennie) Holman (later Shaw)
H. S. Lockwood: Beatrice's brother Homer S. Lockwood
Bertha Bates: Gilbert's sister Bertha E. Bates, later married Frank Miller
Clarence Bates: Gilbert and Beatrice's eldest son, age 3 years
Clifford Bates: Gilbert and Beatrice's next eldest son, age 1 1/2 years
Chas Martin: I'm not certain who this was.
A Second Clipping
Two days later the same newspaper again mentioned that the Holmans had attended the Christmas dinner gathering.