Around 1906, my grandparents and great-grandparents moved from Michigan to California.  This included all my grandfather's siblings except one, as well as most of my grandmother's family.  All told, there were at least 21 family members, possibly more, so I'll call it a migration.  I think that the Bates moved out together, but I think the that the Lockwoods may have moved a bit later.  I have not determined what may have prompted them to leave Michigan.  In this post, I will present what I do know about where they settled in California.
From Michigan
According to the 1900 census, the Bates family was living in the Fremont Township in Tuscola County, Michigan. The Lockwood family resided in Elmwood Township, also in Tuscola County, about twenty-five miles north of Fremont, and slightly to the east.
Migration
More than twenty family members came from Michigan.  A single member, William A. Bates, remained in Michigan.
On my grandfather's side were the following:
William Henry Bates
   His wife Amanda (Steele) Bates
      Daughter Martha Jane Bates
         Her husband Arthur L. Hardy
            Daughter Grace Evelyn Hardy
      Son Charles Frederick Bates
         His wife Myrtle Bell Hill Bates (married in Michigan)
            Son William Arthur Bates
      Son Gilbert E Bates, my grandfather
      Daughter Lottie Mae Bates
      Daughter Bertha Edna Bates
On my grandmother's side were:
Franklin J. Holman, widower
  Daughter Mayremna (Holman) Lockwood, widow
      Daughter Beatrice Emerald Lockwood
      Son Glenn Frank Lockwood
      Son Homer Salsberry Lockwood
   Daughter Mabel Blanche (Holman) Lewis (married in Michigan 1881)
      Her husband Otto S. Lewis
         Florence Carr Lewis (adopted)
         Raymond Carr Lewis (adopted)
   His daughter Maude S. Holman
To California
The majority of the Bates settled in the Santa Ana area in Orange County.   These included William Henry, Amanda, Gilbert, and Bertha.   I'm not certain where Lottie and Charles initially settled.  Martha Bates Hardy and husband Arthur Hardy settled in San Bernadino, about 50 miles to the northeast of Santa Ana.
Mayremna Lockwood and children Beatrice, Homer, and Glenn all moved to Santa Ana, as did her father Franklin Holman and sister Maude.   Mabel (Holman) Lewis and husband Otto Lewis also settled in Orange County.
In early 1907, my grandfather bought half interest in a piece of Santa Ana, California property from W. R. Crawford for the sum of $10.  This is the earliest reference to Gilbert in California that I have been able to find.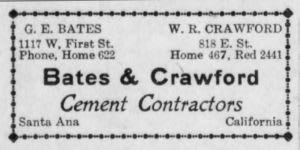 By September 1907,  Gilbert was advertising with W. R. Crawford as a cement contractor in the Santa Ana Register in Santa Ana, California.  He had been listed as a day laborer in the 1900 census.  I don't know if he learned cement work in Michigan, but I think it more likely he learned the trade from Mr. Crawford.  He went on to become a well-known cement contractor in the Santa Ana area.  I can remember as a child discovering Gilbert's contractor stamp on a sidewalk corner near Seventeenth Street in Santa Ana.

Here is a clipping from The Cass City Chronicle in Michigan showing Mayremnie Lockwood and two sons (this would be Glenn and Homer) leaving Elmwood, Michigan in early 1908 and heading to the Golden State.
Her husband Willie A. Lockwood had died on October 30, 1906.  Daughter Beatrice was listed as residing in Rockford, Illinois in his obituary, so I do not know when she actually moved west.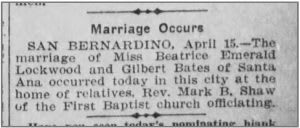 My grandparents did not marry until after the move to California, as shown in this newspaper clipping from the Los Angeles Herald.  The wedding took place in San Bernadino on April 16, 1908, where Gilbert's sister Martha and her husband had settled.   I do not know for certain that they knew each other back in Michigan.
Another announcement, printed in the Santa Ana Register, stated that "A neat cottage just built by the groom on the corner of Van Ness and Washington avenues, will be the future home of the young couple".

Most of the families remained in the Orange County area for a few years before moving to other areas, primarily in southern California.  In this clipping, we see that my great grandparents acquired a new house in Santa Ana in early 1908.
My purpose here is to briefly show the arrival of family members as they moved to the West Coast.   I will add to this post as I  find new information or need to make corrections.  Future posts will cover some of the events in their lives while living in the Santa Ana area, as well as give profiles on specific individuals.