One of my early searches for family members on my grandmother's side turned up an unexpected biography of her father. In this article, I take a look at a biographical album that contains a description of the Franklin J. Holman family, and a reference to a train robbery.
Chapman Biographical Albums
Between 1883 through 1892, the Chapman Brothers (also Chapman Publishing Co.) produced a series of books containing local biographies. The albums covered counties in Illinois, Iowa, Kansas, Michigan, Nebraska, and Ohio.
Families paid to have their biography included in an album for their county, and supplied all the information. Consequently, the albums provide 'first-hand' biographical sketches and family stories.
Genealogy Today has an informative article about Chapman Brothers and their books. The article is From Apples to Oranges: Portrait and Biographical Albums by Judy Rosella Edwards. It describes the history of the Chapman publishers and provides a complete list of the albums that they published.
I was fortunate to find my g-g-grandfather, Franklin J. Holman, listed in the index of the album for Midland County, Michigan.
Biographical Album of Midland, Michigan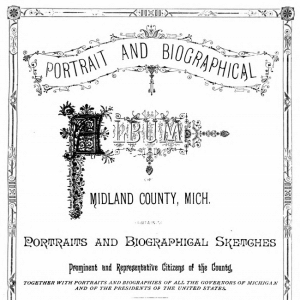 The book is titled Portrait and Biographical Album of Midland County, Mich. Containing Portraits and Biographical Sketches of Prominent and Representative Citizens of the County.
I initially found it online at the University of Michigan. It is now accessible free at HathiTrust Digital Library and Google Books.
The index is on page 431 and the biography of Frank J. Holman is on page 268. Enter Holman in the search box to easily locate the entries.
A nice full-color copy of the book can be found at Archive.org, although it is slightly more difficult to navigate at first.
Any of the locations allow downloading of the entire biographical album as a PDF file.
The Biography
Below is the text of the biography of Frank J. Holman from the the book.
Frank J. Holman, farmer, section 20, Warren Township, was born in Susquehanna Co., Pa., Dec. 22, 1835. He is a son of Sumner and Rebecca (Ellsworth) Holman. His father was pushed from a running train some 15 years ago and instantly killed. It is supposed the party or parties who committed the murder did it to procure his money and insurance, but they were never identified or convicted. His mother is living in Midland City. She married a Mr. Heary D. Rogers, after the death of her first husband, and he is also deceased, and she is now again a widow. She moved to Ontario, Co., N. Y., after the death of her first husband, where she contracted her second marriage with Mr. Rogers. He was a farmer by occupation, and Frank was brought up on the farm and remained with him until 21 years of age. In the Spring of 1850 the stepfather moved to Saginaw, this State, and purchased 40 acres of land within nine miles of that city. Frank accompanied him and remained with him on the land until the stepfather came to midland City.

Jan. 25, 1862, Mr. Holman was united in marriage to Julia A., daughter of William C. and Barbara M. (Curavo) Spicer. Her father was a native of New York and her mother of Vermont.

Mrs. Holman was born Jan 26,1845, in Ticonderoga, Essex Co., N. Y. She is the mother, by Mr. Holman, of six children, one of whom is deceased. The living are Mable B, born Feb. 18 1863, married May 22, 1881, to Otto S. Lewis; Maremna, born April 29, 1865; Frankie S. born Sept. 25, 1873; Maud S. born Oct. 11, 1875; Murry C., born Dec. 4,1880. Berdie, born June 2, 1868, died May 3,1875.

Politically, Mr. Holman is a believer in and supporter of the principles of the Republican party. In religious affairs he and his wife are members of the Seventh-Day Advent Church.
The Train Robbery
While most of the information in the biography matches that in other documents, the story about Sumner Holman and the possible train robbery seems to be unique to this book. I planned to narrow down the time and place to see if I could find anything more about it. This turned out to be difficult for a couple of reasons.
First of all, the biography does not specify the location of the event.  It seems likely though that it took place in Susquehanna County, Pennsylvania where Frank was born.
Secondly, the biography gives conflicting information about the when the incident occurred.
The Chapmans published the Midland album in 1884. The robbery took place "some 15 years" before that, or around 1869. It was probably a bit earlier since we don't know when the Holmans submitted their biography.
However, Rebecca remarried before the "Spring of 1850". The 1850 United State Federal Census for Saginaw, Saginaw County, Michigan shows her married name as Rogers. Consequently, the train incident must have occurred earlier than 1850, but probably after Frank's birth in 1835.
Even with a narrowed time frame and a likely location, I have yet to find anything further about Sumner's demise.
Summary
There are several other items to note:
Maremna (Mayremna) married Willie A. Lockwood in 1884 in Midland County, Michigan.  My grandmother Beatrice Emerald (Lockwood) Bates was one of their daughters.
As a child, I remember Beatrice attending the Seventh-Day Advent Church.
The biography mentions the marriage of Mable Holman and Otto Lewis.  Otto played significant parts in the later history of the Bates family (topics for future articles).
Other records show that Mr. Heary D. Rogers was actually Henry D. Rogers (usually spelled Rodgers).
Finding this biography was one of my best early successes. I acquired names, dates, and places for three generations, and a train robbery story to boot.
I have added Sumner Holman's death and the train incident to my list of things to investigate further.