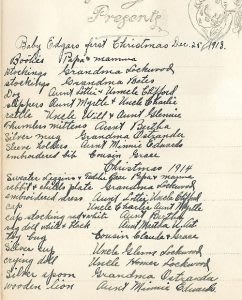 In my dad's baby book, my grandmother, Beatrice Lockwood Bates, listed the gifts he received for his first and second Christmases. Each year a present was received from Grandma Ostrander and one from Aunt Minnie Edwards, but no one in the family recognized these names.  In this article, I describe discovering the family connection to both of these individuals.  In the process, I found a new family contact who had known my grandmother as a young woman.
The entries in the baby book were from 1913 and 1914, so this was looking back almost a century.  I noted that the two names showed up together in both years, perhaps indicating that they arrived at the same time.   I searched and queried various websites and bulletin boards (this was back around 2001), but since I was  not able to find any link at all to the Bates or Lockwood families, I put the topic on my ToDo list for later research.
Finding the Grandma Ostrander Connection
Fast-forward to 2014.  I ran across a Public Member Story on Ancestry linked to my grandparents, Gilbert Bates and Beatrice Lockwood.  It was a reference from the Bates Nut Farm website.
Attached to the item was comment from Tanya Beauchamp about Beatrice.  She related that as a child, she had known my grandmother.   Tanya went  on to say that her great grandmother was Iora Copp Ostrander, was a step-sister of Beatrice's grandfather, William A. Lockwood.  I contacted Tanya through Ancestry and we have since shared stories via email.  She has told me a lot about my grandmother's life as a young woman.
It seems that Tanya knew my grandmother as Great Aunt Blissie.  I know that she went by Blossom when she was young. The following is from Tanya's comment:
"Great Aunt Blissie!: My great grandmother, Ora Copp Ostrander, was a step-sister of Wm A Lockwood. Her mother, Maria E Crispell, married 1st Peter Copp & 2nd William W. Lockwood. Wm A Lockwood was the son of Maria & Wm W. My grandmother, Minnie Belle Ostrander Edwards Irwin, died in Oct 1944; her mother,in Feb 1945. Great-Aunt Blissie came to visit us in MD afterwards. I was eight. She talked to me about my grandmother & taught me to bake a cherry pie! I remember her very fondly. She sent us a box of walnuts for Christmas every year. Sent walnuts also to my uncle Robert Edwards' family. My grandmother had told me to remember that her mother was a Lockwood."
Memories of Beatrice
In a later email, Tanya reminisced about the cherry pies:  "There was a giant sour cherry tree in the back yard.  By the way, she baked those pies with great finesse in a wood-fired iron stove which had come with the house."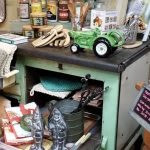 Incidentally, I also recall my grandmother using a wood stove — right next to her electric one.  [Edit 10-29-2017] Here is a photograph of that very wood stove.  It is used as a display in the gift section of the sales room at Bates Nut Farm.
It seems that Beatrice and Ora were quite close, and Beatrice went to visit several times over the years, even after Ora's family had moved to the East Coast and Beatrice to California.  Gifts were often exchanged between the families, as shown in baby books of my father and Tanya's father.  Tanya states "My cousins, siblings, and I also happily remember her years of Christmas walnut gifts.  I also noted from my father's baby book that Ora & Beatrice came to visit."
Tanya has also forwarded me the obituaries of Iora, William W. Lockwood, and William Ostrander.
Iora's obitutuary says that her mother was "a daughter of the Lockwood family who were among the first Seventh-Day Adventists to accept the third angel's message in the State of Michigan."
Her husband, Elder William Ostrander, was "one of the pioneer preachers in the early days and filled many prominent official positions in the Seventh-day Adventist denomination."
Family Photograph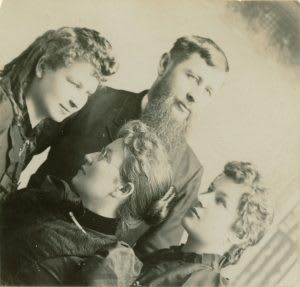 Here is a photograph of the William Ostrander family.  Iora Crispell Copp is at the bottom,   Minnie Belle is on the left and Ione E is on the right.
This picture can be downloaded from Ellen G. White Estate, Inc..  Ellen and her husband James White were instrumental in the founding of the Seventh Day Adventists.
Indeed, I remember my grandmother being a member of the Seventh-Day Adventists, but I had no idea her family played such a part in their history.
Mysteries Solved
I now have the answer to one of my original questions about my family history (see The Question(s) That Got Me Started).
Grandma Ostrander was Maria Crispell Copp Lockwood, Beatrice's paternal grandmother,  and was Iorah's mother.  Tanya and I share Maria as our 2x great grandmother.
Aunt Minnie was her daughter, Minnie Bell Ostrander Edwards Irwin, and Beatrice's aunt.
In addition, Tanya has solved another mystery for me. Beatrice's father, William A. Lockwood, died 30 Oct 1906 in Elmwood, Tuscola County, Michigan.  While the rest of the family was listed living in Elmwood in his obituary, Beatrice was noted as living in Rockford, Illinois.  I had not been able to connect her with that location in any other documents. Tanya suggests  that "Iorah and her granddaughter Blossie may have been visiting Minnie who was then pregnant with my father.  My father, William Rollin Edwards was born on 12 Feb 1907."  William's birthplace was Rockford, Winnebago County, Illinois.
Summary
Thanks to Tanya's generosity and willingness to share, I have learned about this 'forgotten' branch of the family tree and what a nice young woman Beatrice was. In addition, I have found a new 'cousin' who is a genealogy enthusiast.