The First Question: Who Were These People?
My father, Edgar Bates, passed away in 1992 at the age of 79.   As I was going through his things,  I began to realize how little I knew about his early life and his family history.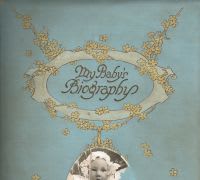 I found a baby book that my grandmother Beatrice had put together.   Besides noting his vital statistics, she had pasted in a number of photographs of dad at various ages.  There were also photos of him with his brothers, several of family homes that he lived in and even a couple of locks of his hair.
One page listed the presents he received on his first two Christmases, along with the names of the people who gave them.  Most were identified by older family members as various aunts, uncles, and cousins, but there were two names no one knew:  Grandma Ostrander and Aunt Minnie. Who were they? 
More Questions…
My curiosity piqued, I began to ask questions when I visited family over the next few years.  The more I found out, the more questions I had:
Who were Grandma Ostrander and Aunt Minnie?
Who did my grandparents buy the ranch from?
All my paternal grandparents were from Michigan.  Where? When? Why?
My great-grandparents were William Bates and Amanda Steele.  He had served in the Civil War.  Details?
My grandmother's maiden name was Lockwood, but her mother's last Shaw. What happened?
The Bates family came from Canada.  Where and when?
Someone in the family died in a shipwreck. Who, what happened, and when?
My aunt was tied to the Bates family in two ways.  How?
I finally decided to put together a family tree and to see if I could locate any information.  I bought a copy of Family Tree Maker, did some internet research, some footwork, and piled up a lot of documents, photos, and files and I have indeed found answers to all of the above questions, some only recently.  Each is a topic for another post, maybe several.
I have uncovered some interesting stories, met others in the Bates family that I didn't know about, and met some distant 'cousins' on the internet.
Anyway, I find myself an avid family history enthusiast and have gotten serious about documenting everything correctly.  I recently began a 'do-over' of my entire family tree and am posting to this blog as I fill in the details.  I'm working to store everything digitally where it makes sense and organize the remaining paper records.