In this post, I take a look at Gilbert Bates (1843-1929), a son my great-great-grandfather Gilbert Bates (1796-1880). He is sometimes shown online as having been married three times.  Looking at the records of these marriages reveals the possibility of another Gilbert Bates.
First Marriage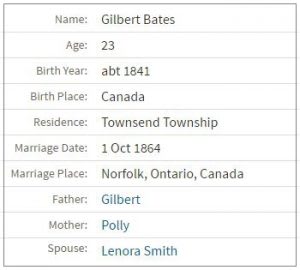 Gilbert's first married Lenora (or Leonora) Smith on 1 Oct 1864.  Both were residents of Townsend Township, Norfolk County in Canada West (now Ontario).
Gilbert's parents are listed as Gilbert and Polly (sometimes a nickname for Mary).  No birthplace town or county was given.
This information is taken from an index, and the source document is not available on Ancestry.
I have not found any further information Lenora, so I do not know what became of her.
Second Marriage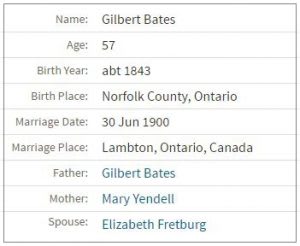 Gilbert married Elizabeth Hillman (sometimes Hilman) on 30 Jun 1900.  His parents were listed in the records as Gilbert Bates and Mary Udell.  Both the bride and groom were widowed.
The original record is quite difficult to read, and  Mary Udell's surname is indexed here as Yendell.  In other documents, I have seen in Udell spelled as Endell, Eudel, or Eudle, so this does not seem that unusual.
In the original marriage log, Elizabeth Hillman's last name is also quite difficult to read.  This was her second marriage, and other records have various spellings Fretburg, Frdenbourgh, Fredenbouraugh, Fretenborough, Fretenbourgh, Fretenbourough.

 Another Marriage, or Another Gilbert Bates?
When doing research online, I sometimes find another marriage attached to the junior Gilbert Bates, between those listed above.  Indeed, I had included this marriage in my family tree at some point.   As I was going through my tree and documenting my sources,  I found that the marriage does not seem to fit.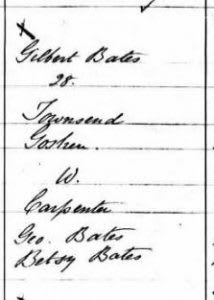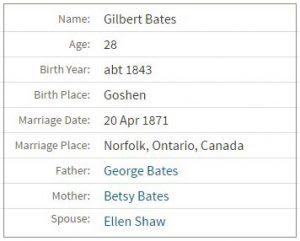 Here is a portion of a registration of marriage between a Gilbert Bates and Helen (or Ellen) Bennett Shaw on April 20, 1871.
This document lists the parents of the groom as George and Betsy Bates, and his birthplace as Goshen — quite different from those in the marriage records above.
I was able to locate a marriage record for George and Betsy.  George's birthplace was Burton Township. Betsy,  or Betsey, daughter of John and Sarah Messecar, was born in Townsend township.
Goshen and Barton are in Wentworth County, now annexed to the city of Hamilton.  Hamilton is about 30 miles northeast of  Townsend Township.
Although I can find no other records for this Gilbert (particularly no birth record), it looks like this family is not related.
Conclusion
It seems that we indeed have a case of two individuals with the same name,  in the same township, and the same age.
There is, however, a gap in the records between Gilbert's first and last marriages.  The records for a marriage to Helen Bennett Shaw all seem to fit very nicely into that gap.  I will need to do some more research on records during this period, a task for another time.
For now, I have 'pruned' this Gilbert Bates and his family from my tree,  including Helen Bennett Shaw, their children, and associated ancestors.
Rather than deleting this line, I have saved the family as a separate Bates tree.  I am hoping that I may find a connection later on, perhaps to the senior Gilbert.  I have added notes to the junior Gilbert and updated my ToDo list to research this Bates family further.
This is a case where verifying the data on an individual was necessary.  It is easy to add an individual to your family tree.  Just a click and it's done.  However, the data needs to be reviewed and sources verified.  Many online trees are unsourced or reference other unsourced trees, and once incorrect connections they easily propagate online.