When I first started asking questions about family history (late 1990s), my aunt, Luella (Munroe) Bates, mentioned that she was related to the Bates family somehow, aside from her marriage to my uncle, Clifford Bates.  Luella passed away in 2009, and we were never able to work out the connections.  This was one of the early puzzles that got me interested in looking into the family history.
Periodic online searches had not turned up anything, and it was only last year that I was able to make the connection.   I had been reworking my entire family tree to make sure that I had my sources documented.  I was looking at the family of my second great grandparents, Mary Udell and Gilbert Bates.  Gilbert was her second husband, a fact that I had only found out several years back.  She was married first to Daniel Emery, and I was exploring the descendants of one of their children.  I recognized the Woods and Munroe names… one of those exciting moments of discovery that make genealogy rewarding.
The Connections
Here's how the two lines worked out.  Luella's second great grandmother was her husband's great grandmother: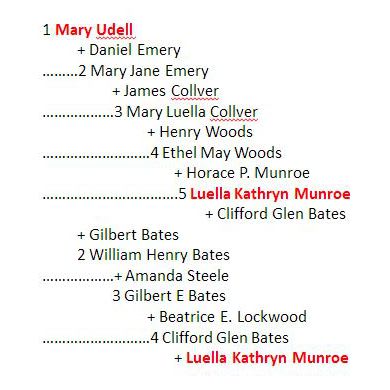 This was one of those cases where periodically going back and repeating searches revealed something new.  More and more information is being digitized, indexed, and made available online every day.
As a side note, I was also rewarded by finding two new contacts related to two of Mary and Daniel descendants with whom to share information.