Mary Udell was my 2nd great grandmother.   She was first married to Daniel Emery, and then somewhere around 1839 she married my Gilbert Bates.  There appears to be no information as to what happened to Daniel.  I have in my records July 20, 1811, as the date of her birth, calculated from her death certificate.  In this exercise,  I will see how that date and birth year fit with the dates and ages recorded in the various documents that are available for her.
The 1851 Census in Canada
The earliest census record I have for Mary is the Census of 1851 (Canada East, Canada West, New Brunswick, and Nova Scotia).  There are a couple of things to note about this census.
One is that the so-called 1851 census did not officially start in Canada West until January 12, 1852.  The other is that the heading for the age column reads "Age next birthday", rather than last birthday, as in later documents.

Mary's age was given as 41.  If the census data was taken before her birthday, she would have been 40 and turned 41 in July.  Using 41 in 1852, we can calculate her birth year to be 1852 – 41 = 1811.
This also tells me that the census data was probably taken between January and July of 1852.  This piece of information might be useful when looking into the birthdates of other family members of her household.
The 1860 US Census Record
Next, we move to the 1860 US Census in Wales, St Clair, Michigan in the United States [see note and document]. The census date on the page is August 10, 1860, and her age is 50. This would have been after her birthday, and we can calculate her birth year as 1860 – 50 = 1910, which places her birth date in 1910.

The 1870 US Census Record
The 1870 US Census was taken in June of that year. Her age is recorded as 58, so she would turn 59 on her birthday the following month. This gives us 1870-59 = 1811 for her birth year once again.

The 1880 US Census Record
The 1880 US Census was also taken in June, before her birthday.  Her age at last birthday was 68. She would turn 69 a month later and we can calculate her birth year as 1880 – 69 = 1811.

1890 US Census Record
Census records are not available for 1890, most being damaged by fire in 1921.
Michigan Death Record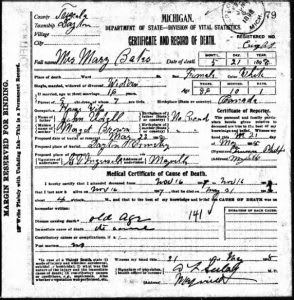 Mary died on 21 May 1898, her age recorded in Michigan death record as 86.  She would have turned 87 that year, and we again arrive at 1898 – 87 = 1811.
Date of death:  5-21-1898
Age at death: 86 years 10 mos. 1 day
We can calculate Mary's date of birth as  7-20-1811
Conclusion
To summarize, we have very good correlation through the five census documents:
1852:  1811
1860:  1810
1870:  1811
1880:  1811
1898:  1811
1860 is the only anomaly.  She would logically have turned 49, eight years after she turned 41 in 1852.
I am using 1811 as the preferred year of Mary's birth and 20 Jul 1811 her actual birthdate my family trees.
Also through this exercise, we now have January and July of 1852 as the probable time period for the 1851/1852 census in Townsend Township.   Hopefully, this piece of information will help in pinning down a birth year for other family members, particularly her husband Gilbert Bates.