In this post, I will be taking a look at an archive relating to Gilbert Bates' application for veteran's  pension benefits for the War of 1812.  He filed the application in early 1880.  The conflict lasted from June 18, 1812, to February 18, 1815, and Gilbert stated only that he served during in 1814.
For some historical background, there is a lot of interesting information on the War of 1812 at Military Society's History of the War and War of 1912 on Wikipedia.  The Star-Spangled Banner was written in 1814 about the war.
War of 1812 Pension and Land Bounty Warrant Application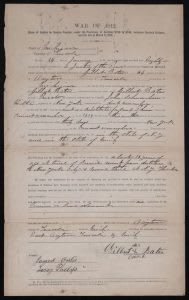 The archive is available at Fold3.com, which is a collection of military records run by Ancestry.com.  Typically, only information on the first page (an index card) shows up in online searches, but the actual archive contains nine pages of correspondence and notes regarding the application.
The archive is still being indexed, and it is fortunate that Gilbert's records have been already been included.   Surnames from A to M are available as of the date of this post. After a free registration, the images can be viewed, printed, and downloaded at no charge.
Gilbert's application was dated January 14, 1880, and was received on January 20th.  It was given in front of a justice of the peace in Dayton, Tuscola County, Michigan.  Pages eight and nine are the original application.  I am not certain who actually filled out the document, as the handwriting does not match Gilbert's signature.
Gilbert stated in the application that he served in John Schermerhorn's New York Militia as a substitute for Samuel Phinis.  The surname is a little difficult to make out, but it looks like it was read as Phinis by the auditors of the application.  It was re-written as Phinis on the Survivor's Brief (page two of the archive) and again on page six, which is a request from the Department of the Interior Pension Office for some official evidence of his service.
He went on to state that he did not remember the date but that he enlisted in 1814 for a period of three months, of which he served 30 days.  The application shows no actual dates for his service, and the war officially ended on February 18, 1815.
Gilbert described his service as: "About 18 years of age at time of service went from dutchess Co to New York city- & served there at New York harbor".
Two of his neighbors attested that "he has told each of us about his service frequently".   Leroy Phelps, his son-in-law, stated that he had known Gilbert for five years.  James Corlis stated that he had known him for 32 years, which would have been around 1848 when Gilbert was living in Canada.
The pension was ultimately refused in June 1880, as no evidence of his service could be found.  Records were not kept for service under 90 days and Gilbert stated that he served for only 30 days.  Had it been approved, the pension benefit would have been 8 dollars per month.  Gilbert died in November of 1880.
Summary
So what new information have I found in this document?
Birth year:  If he was 18 at the time he enlisted in 1814, then his birth year would have been 1795 or 1796, depending on whether he had his birthday before or after signing up.  This corresponds to his statement that his age was 84 on January 14, 1880.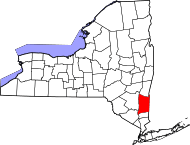 Residence:  The pension application places him in Dutchess County, New York in 1814.  Dutchess County is about 85 miles from New York City.  It is adjacent to Columbia, Ulster, Orange, and Putnam Counties in New York, as well as two counties in Connecticut to the east.  Granted that he could have come from any of these and gone to Dutchess to enlist.   While I cannot use this as a place of birth,  I now have a much smaller area of New York in which to search for more records.
Acquaintances:  I now have references to two names where further research might yield Bates information.  The first is Samuel Phinis, for whom Gilbert was a substitute.  The other is James Corlis, an acquaintance from Michigan and quite possibly Canada.
Health Status:  In the left-hand margin of page nine is a handwritten note certifying that Gilbert was experiencing "old age and it's infirmities".
I will be adding these findings as notes to my family tree, as well as updating my ToDo List.