This article provides an overview of my Bates lineage. It covers the four generations of the Bates family that I have been able to trace so far, starting in 1795. I have included a brief biographical sketch about each generation and listed other family names connected to the Bates family tree.
My 'Brick Wall'
The earliest member of the Bates family that I have been able to trace is Gilbert Bates. He was born in New York about 1795. Gilbert has been my 'brick wall', as my research seems to stop with him. In most censuses, he gave his birthplace as New York. He gave Dutchess County as his enlistment location (see Gilbert Bates And The War Of 1812).
Censuses list a son George, born in New York in 1833, so it seems likely that Gilbert had been married prior to that time. Although I have found several other Bates in the same area and time period, I have not yet found any connection to either Gilbert or George.
Great-great Grandparents – Gilbert and Mary
Gilbert appears next in 1851/52 Census in Townsend Township, Ontario, Canada, married to Mary Udell. Surnames in Mary's lineage include Udell (or Udall), Brown, and Marr.
This was Mary's second marriage, the first being to Daniel Emory. Daniel and Mary had five children. I have been able to contact descendants of three of them, but still not determined what became of Daniel.
Gilbert and Mary had four children who carried the Bates name. These were Gilbert, William Henry, Mary Elizabeth, and Sarah Ann (see The Children Of Mary Udell).
By 1860, Gilbert and Mary had moved the family to Wales, St Clair, Michigan, as evidenced in the 1860 US Census. Sarah appears to have been born in Michigan.
Great Grandparents – William Henry and Amanda
William Henry married Amanda Steele on February 15, 1868, in Tuscola, Michigan. Amanda's lineage includes Stahli (from which Steele was derived), Widrig, Bender, Wohleben, and Nixon surnames.
William Henry served three years in the Union Army. He was a private in the 1st Michigan Engineers and Mechanics regiment.
William Henry and Amanda had six children over 18 years, all born in Michigan. These were Martha Jane, Charles Frederick, Gilbert E, William A, Lottie Mae, and Bertha Edna.
Except for one son, William A, the entire Bates family moved to Southern California starting around 1907 (see Migration – From Michigan to California). Gilbert, Bertha, and Charles all initially located in Santa Ana. Charles had married Myrtle Bell Hill in Michigan in 1903. Martha also married prior to leaving Michigan. She and her husband, Arthur L. Hardy, settled in the San Bernadino area. Lottie moved to Los Angeles and married Clifford E. Schroer.
Grandparents – Gilbert E and Beatrice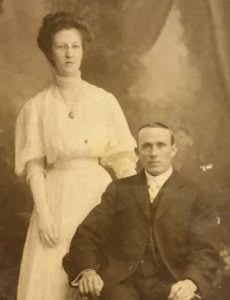 On April 15, 1908, Gilbert E and Beatrice Emerald Lockwood were married in San Bernardino, California. Surnames in Beatrice's lineage include Holman, Crispell, Spicer, Elsworth, Furman, Smith, and Curavo.
Beatrice's family had also moved from Michigan in 1907, but I haven't found that she and Gilbert knew each other there.
Gilbert and Beatrice lived in Santa Ana, where Gilbert established himself as a cement contractor. In 1918 the family moved to Ramona, in San Diego County. In 1921 they moved again to nearby Valley Center, where they purchased Walnut Slope Ranch. The property has remained in the family through four generations and is presently the home of Bates Nut Farm.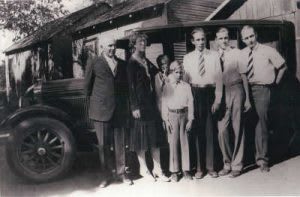 Gilbert and Beatrice had five children over 15 years, all boys. Clarence Frederick (1909), Clifford Glenn(1911), and Edgar Lewis (1913) were born in Santa Ana. James Gilbert (1920) and William Henry (1925) were born in San Diego County.
Edgar, the middle son, was my father. Sadly, there is no one still living from my his generation.
Parents – Edgar and Janet
Edgar married Janet Louise Hollingsworth of Santa Ana. They eloped and were married in Yuma, Arizona on February 3, 1940. Janet's lineage includes Windsor, Arthur, Hazzard, Williams, Wright, and Carter surnames.
Mom and Dad raised their family in Ventura County, California. Dad relocated to Central Oregon after mom died in 1970.
Summary
The above is a basic outline of my direct paternal line. It is the basis for most of the articles and stories on this site. In researching these direct ancestors, I've also collected background on the maternal lines and of siblings. I plan to post their stories as I weed through my notes and photographs.