Last week I had occasion to visit Baker City, Oregon.  My grandmother's brother, Glenn Lockwood, moved to Baker sometime between 1910 and 1917 and married Bessie Evelyn Beggs.  My father had told me that their daughter Wilma had lived in a historic house on Resort Street.  I thought I would see if could locate it and take some pictures.  I found some interesting background on this branch of my family tree and learned some history of eastern Oregon.
The Beggs-Lockwood Years in Baker City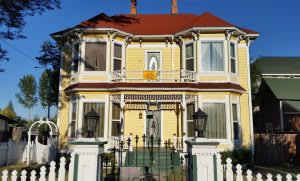 The house wasn't difficult to find.  Baker City has the largest continuous historical district in Oregon, having over 100 buildings on the National Register of Historical Places.  The house is on the edge of the district at 2116 Resort Street.
This is what it looked like in 2016. There is a for sale sign on the railing above the porch.
William Beggs bought the house in 1917.  He and his wife Alice Black Beggs had a daughter, Bessie Eileen Beggs in 1891.  Bessie married Glenn Frank Lockwood in 1915, and they had two children, Wilma in 1916  and Kenneth in 1923.  Wilma and Kenneth were my father's cousins.   I  remember him talking about visiting his cousin Wilma in Baker City when he lived in Bend, Oregon.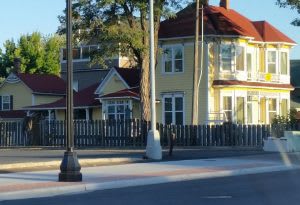 From Wilma's obituary in the Baker City Herald, Jan 10, 2003:
"Ms. Lockwood was born Nov. 27, 1916, at Baker City, a daughter of Glenn and Bessie Beggs Lockwood. She was a clothes buyer for HC Stevens for many years and ran the local store until the mid-1950s when she chose to stay at home to take care of her mother, Bessie Lockwood, and later her father, Glenn Lockwood.
"Ms. Lockwood was known as the cat lady on Resort Street and swore she only owned one while she fed 50 of them."
Kenneth's son remodeled the interior and built a garage in back.  In July of 2006, he sold the 130-year-old home to Rolf and Robin Erlandson, who spent several years restoring it the outside.  It had been in the Beggs and Lockwood families for 89 years.
The Shinn-Wisdom Years
The house is historically called the Shinn-Wisdom House because the first two owners each had a part in building it.  It started as a single story, built in 1876 by James Shinn. The two-story front section was added in 1892 by James Wisdom.
With some help from Sara at the Baker County Library in Baker City, I  located some early photographs of the William H. and Alice Beggs residence at 2116 Resort St., circa 1920. The views are roughly similar to the photographs above.  (click to enlarge)
This post has turned out to be the genealogy of a house. For more information on the Lockwood family,  Find A Grave has individual pages for Glenn Lockwood, Bessie Beggs, Kenneth Lockwood, and Wilma Lockwood.
Sources:
Baker County Library (Oregon) Historical Photographs, Baker County Library, Baker City, Oregon
Obituaries for the week of Jan. 6 to Jan. 10,  published Jan 10, 2003, by Baker City Herald, Baker City, Oregon
HOME TOUR:Owners breath new life into historic homes, published Dec 6, 2006, by Baker City Herald, Baker City, Oregon